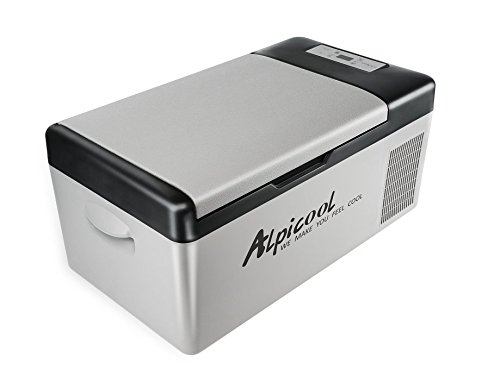 Alpicool C15 dc compressor car fridge freezer is for both, car and home use. It has been built with high quality plastic material, which is good for using on boat.
Further, it has thick foam insulation, which makes it a water-proof unit also, and carries vibration resistant design. It is totally safe to run on angles up to 45° from horizontal side. Alpicool C15 dc compressor car fridge freezer has digital control panel with temperature settings so that you can set the temperature as per your requirements.
It comes with high-performance compressor that has ECO & HH modes, carries 12V or 24V DC / 240V AC power inputs. Alpicool C15 can greatly be an impressive fridge or freezer. It has two power codes, one for DC and one for AC. This Alpicool fridge can be a good unit for those who want to keep their beer cool on a trip.
This high quality and energy-efficient Alpicool fridge and freezer is a good unit for people looking for a portable fridge/freezer.
No matters, if you are off to the park for the enjoyment or on the road tour, Alpicool fridge/freezer can be a great unit to keep your food fresh and drinks cold.
When it comes to powering up this unit, it gives you good flexibility for the same. You can power up this Alpicool unit via 12V or 24V battery as well. You can also use 110V / 240V mains to provide electricity to this unit. Read more…
[home]
---