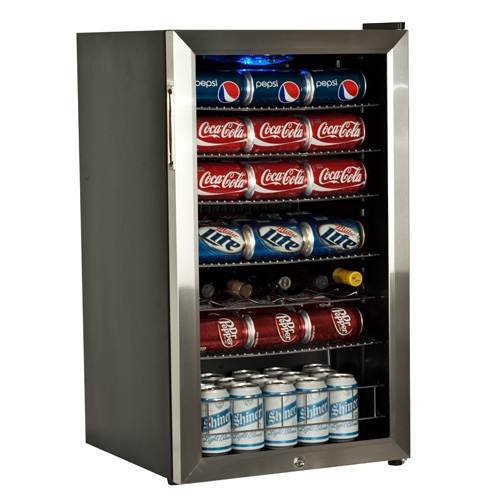 EdgeStar BWC120SSLT is a performance-oriented beverage cooler that consumes very less energy.
It comes with 103 can and 5 bottles capability offering you good scope to store your various beverages and other items.
Most importantly, EdgeStar is a popular brand name on the market for numerous home and kitchen appliances. If the EdgeStar name automatically comes into your mind for all your beverage cooling requirements then it is really a good thing for you. Because you will not lose anything here.
Not only does it offer good performance but also affordable price.
Amazingly, EdgeStar BWC120SSLT has compressor cooling capacity. On the other hand the internal fan helps maintain even temperatures from 30° to 50° F.
Further, EdgeStar BWC120SSLT refrigerator comes with tempered glass door, which is further made of stainless steel material for the durability and modern style. Of course, the door is reversible for all your convenience.
The exterior dimensions are 33-inch high, 19-inch wide and 18.25-inch deep. And the interior measurement is 28.75-inch high, 15.5-inch wide and 14.25-inch deep.
To organize the beverages well, EdgeStar BWC120SSLT beverage cooler has 6 detachable shelves. These shelves work in slide-out chrome style. And the bottom part of this refrigerator accommodates 28 cans. Read more…
[home]