This ARB freezer kit comes with a whopping 20 feet of wiring that has been double insulated for maximum protection from the elements. Whether you are looking for installing a mini fridge, or you are just someone who needs an additional 12 volt outlet so that you can put it your car, the ARB wiring kit has you covered on that front. What's more? It comes with a threaded socket and it also has the ability to be surface mounted. ARB is a trusted brand name and it has designed this outlet to be an all-rounder as well as being a user friendly kit. You have two options with this outlet: you can use the supplied mount to install the socket, or you directly screw this outlet into any flat surface inside your car.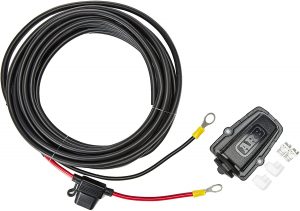 Top Features
It can be quickly installed onto the battery
This outlet is compatible with all the fridges under the ARB name
The 20 feet of wiring is double insulated for maximum protection
This product comes preassembled with in-line 15amp fuse and eyelets
Pros
Plug and play for convenience
Long wires that are able to power your freezer efficiently
Quick installation makes it a great product to have in the back of your car
Cons
Sometimes shipped with missing parts
Final Verdict
It has a handy kit to have especially if you are someone who is always on the road and in need of a reliable wiring solution for your mini fridge.
[home]